COMING SOON
By USA Today Bestselling Author
C.T. Adams
THE GINGERBREAD MAN
A Celia Graves/Bloodsinger Novel
Catch me
Catch me
If you can.
No one can catch.
The Gingerbread man.
When this challenge comes in a package to Celia Graves with the severed thumb of a former client she is dragged back into a life she had left behind.  Her job is no longer to protect, but to find Libby Alexander and save her from the madman who has her.  
Best Selling Author
C.T. Adams
C.T. Adams is a USA Today bestselling author with multiple books translated into various languages.  She lives with her son James, her dog Apollo, and her cats while both working full-time and writing.  She is not really a morning person, but gets up early (with the help of copious amounts of caffeine) so that she can write every day.  
"Eyes" — copyright Zeibyasis, Rachel "Zei" Davis 
ROADTO.RICHES:  The Great Railroad Race to Aspen                                                                                                                                                                                                                MAGIC'S DESIGN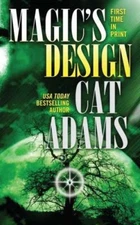 Your Title Goes Here
Your content goes here. Edit or remove this text inline or in the module Content settings. You can also style every aspect of this content in the module Design settings and even apply custom CSS to this text in the module Advanced settings.
Mysteries
Written as A.S. James
Available in E only on Amazon.com
This is why I love the urban fantasy genre.  Cat Adams is an awesome author.  If you're looking for action, violence, and spicy romance, check out Celia Graves, part vampire, part siren.
– 
 Jessie Potts (AKA "Book Taster" on USATodaycom (The Eldritch Conspiracy)
Elm Creek Investigations was a small-town, small-time PI business owned and operated by Jerry Jennings.  When he died his niece Sam didn't foresee any problems taking over.  When she finds her first case sets her afoul of a kidnapper and murderer she realizes just how wrong she was.  It's Sam against the killer, and only one of them is liable to survive.
My Writing Blog
Follow Along
SHAMELESS I ran. I'm not proud of the fact, but I did. I turned tail and ran back the way I'd come, then took off of the track to wade into the shallow water at the lakes edge...
Snail Mail Address
C.T. Adams Author
Qe Enfaolen Enterprises
PO Box 19139
Topeka, KS  66619-0139